Provide a clear picture of community health and priorities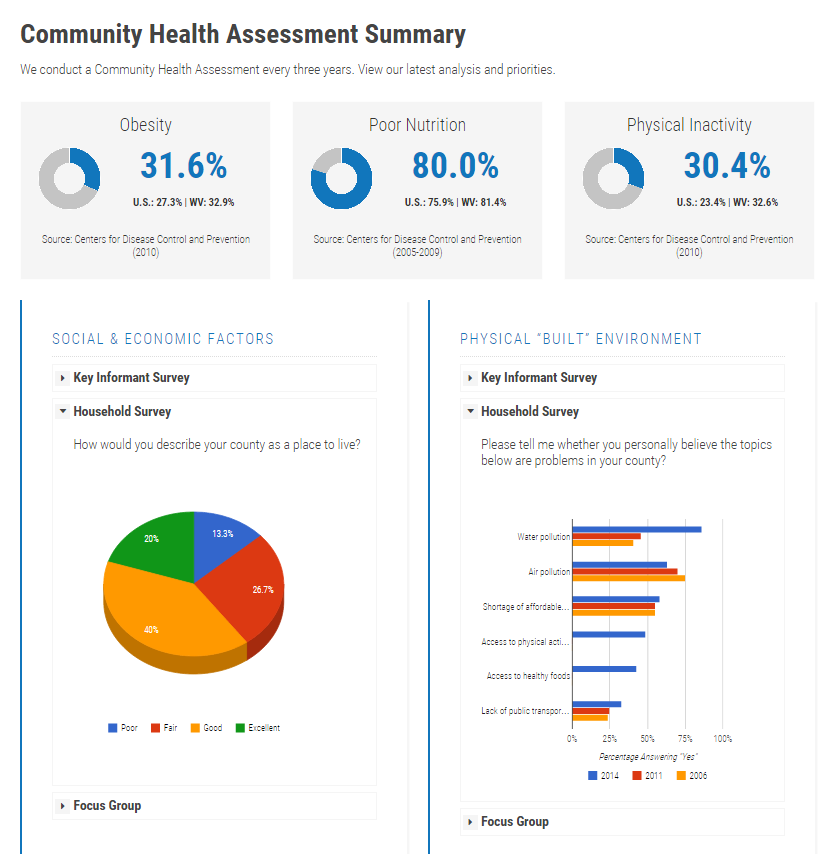 Community health data can be complex and overwhelming.
By following solid design principles in a dashboard layout, you can help highlight important findings and messages for your audience. The dashboard is built for viewing on multiple devices – laptops, desktops, tablets and phones. Multiple types of charts can show trends or comparisons. Visual lists emphasize key findings and priorities.
Let us help customize a Community Health Dashboard to highlight your critical health statistics and health improvement priorities. Click below to view a live example.
What is your organization doing to improve population health?
Obesity was prioritized in 70% of community health needs assessments.
Finding and promoting cost-effective interventions to address chronic disease risk factors can be a real challenge. We believe that using the latest marketing technologies provides an excellent opportunity to help you promote the right intervention to the right person at the right time.
Health fairs and paper educational materials can only get you so far. Modern technology is needed for today's dissemination and health education challenges.
Priority Community Health Needs (%)
Source: HRET, 2014
7 Features of a Modern Local Health Website
In the 21st century, a powerful online presence is mandatory for a credible brand.
This truth applies as much to a local health department constructing a reputation in the community as to a traditional company marketing goods and services. A vital website can do everything from shape market perceptions to educate and assist visitors.
A comprehensive local health website will help you:
Build your brand
Engage your audience
Share public health data
Disseminate timely and valuable information
The Public Health Accreditation Board (PHAB) recognizes the importance of websites in Domain 3 of its Standards & Measures by noting …